Japan's legendary shoe designer Toshiaki Omori has taken on the challenge of creating an even better running shoe, for record breakers and everyday runners, crafting the new Adizero Pro
February 20, 2020
In 2004, after decades of creating race-winning, record-setting running shoes, Adidas wanted to push the boundaries even further by developing a shoe that would really redefine the meaning of fast.
There was no better craftsman for the task than Japan's legendary shoe designer Toshiaki Omori, who has helped make world-class running shoes for Adidas since 1999.
Having spent his life developing his "inside out" design philosophy, Omori believes the anatomy of the foot must always come first in the crafting process. Using molds of real feet, known as lasts, he worked to create the most perfect, streamlined fit possible – what he calls a "microfit'.
To achieve this symbiosis between foot and shoe, simplicity was essential. From the choice of materials and textiles, to the weight and cushioning of the sole, every element was carefully considered. The shoe needed a lightweight feel to maximize speed without compromising comfort. It had to be elegant, with a sock-like fit, and pace to burn. Plus, as runners know, a shoe has to look as fast as it feels.
During every step of the design journey, there was a new challenge for the team to overcome. The shoe had to be versatile and adaptable to any running conditions an athlete might encounter – kilometer repeats on the track, a 10K tempo run, treadmill interval sessions, or an ultra-marathon.
Needless to say, the design and development team had their work cut out for them.  Finally, after years of careful development, it was time to introduce the world to the adizero.
It was September 2008, the night before the Berlin Marathon. In his hotel room, Ethiopian long-distance runner Haile Gebrselassie laced up the first adizero Adios prototypes. He ran up and down the hotel corridor, testing them out, feeling the responsiveness of the soles as his feet touched the ground. Impressed, he decided to wear the adizeros for the marathon.
The next day, he broke the world record in them by 29 seconds with an incredible 2.03.59 finishing time. His third consecutive win.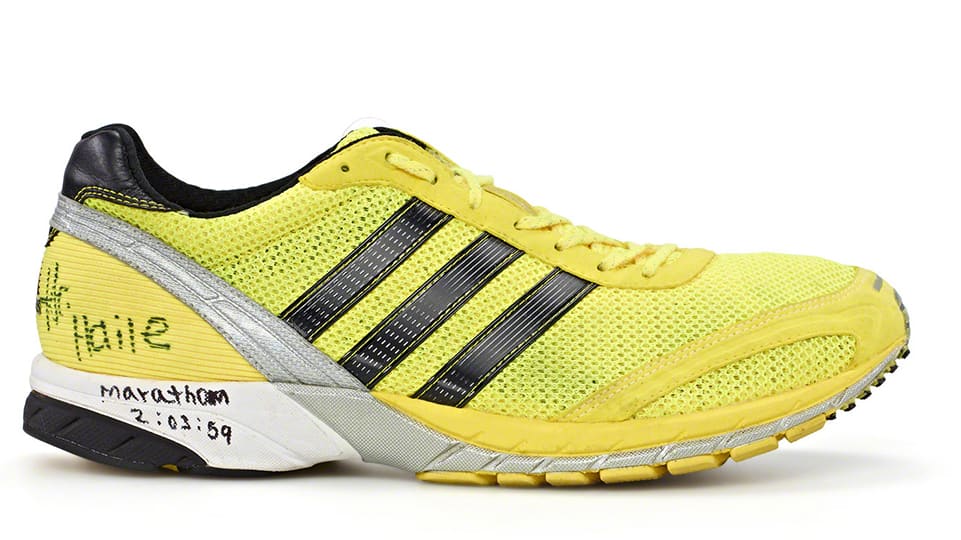 Since their 2008 debut, adizeros' have collected over 150 victories in the world of elite racing. To make these wins possible, the adizero team has rigorously refined the shoe – "testing and improving with the support of athletes is fundamental in our process," says adidas running footwear designer, Moritz Hoellmueller.
With this athlete feedback as their guide, the designers are constantly trying to harness their creativity to unlock new innovations. Each time they do, athletes are empowered to push themselves further.
Lee Ryan, current adidas Runners Dubai captain and father of two, has improved his performance along with the shoe's evolution. In adizeros, he's broken five world records, including fastest marathon with a double stroller. "The shoe became better over time, just as I performed better over time," says Ryan.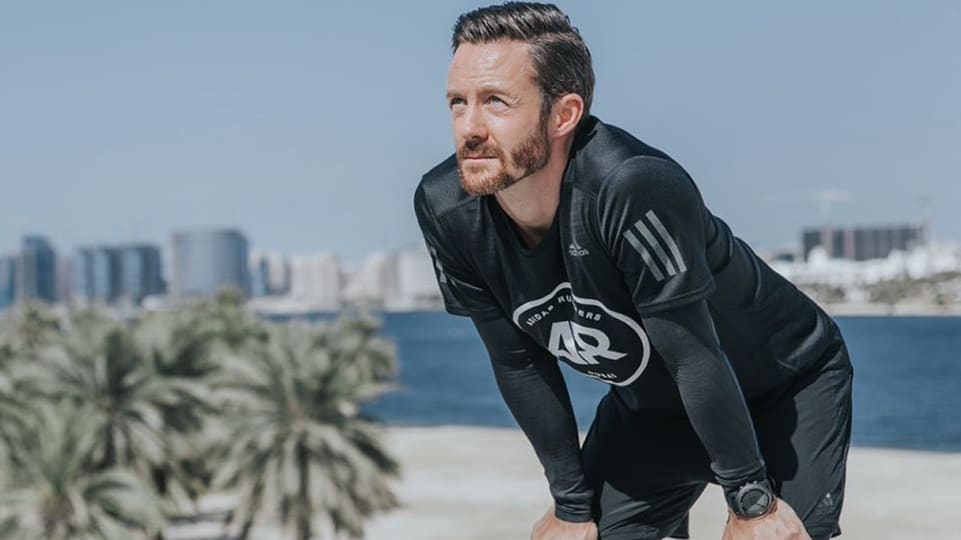 Ryan couldn't have said it better; adizeros are constantly improving alongside our athletes. Just three years after Gebrselassie's Berlin Marathon win, Patrick Makau wore the next evolution of the shoe to beat the previous record by 21 seconds. In 2014, yet another adizero evolution broke the record when Dennis Kimetto shaved 41 seconds off Makau's time in the adizero Adios Boost.
As more and more elite athletes started wearing and being seen in the shoes, interest in them from runners of all paces grew. adidas addressed that. Today, adizero has expanded into a range of shoes for every level. Ben Herath, a designer on the first adizero Adios, believes that "lightweight is for everyone because we all want to run fast. That was the goal, to open up speed for everyone."
adizero has become a gateway shoe, democratizing speed for the masses. Mathilde Have, captain of adidas Runners Copenhagen, feels that wearing adizeros has reshaped her relationship with speed – "I felt faster, and that feeling made me go faster." Like other adizero runners, the shoes made her feel more confident, allowing her to rediscover her love of running fast.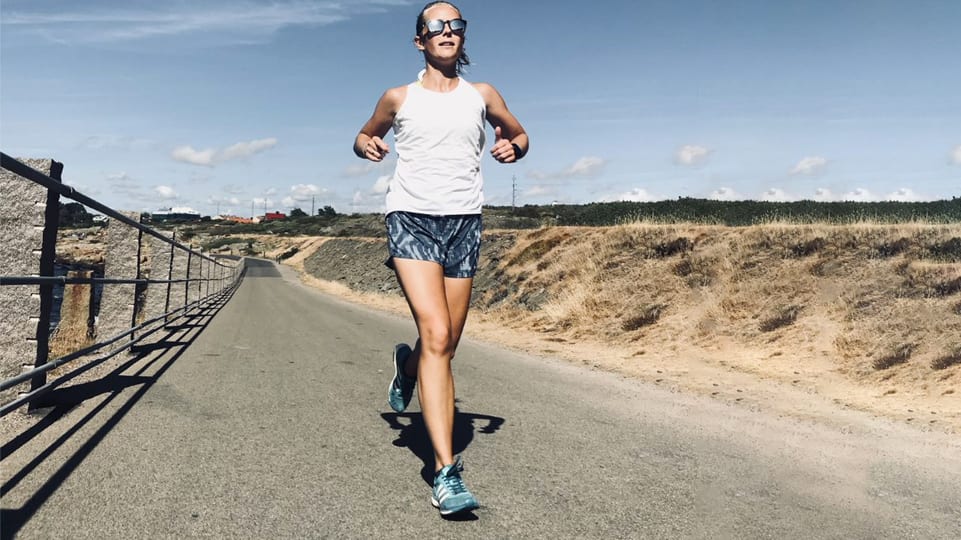 Since then there has been something of a revolution in running shoe design. The development of carbon fibre technology has enabled other brands to develop a new generation of shoes that have far greater spring-like properties, that have been claimed to improve performance by 4% or more. In a marathon that is a huge gain, whatever the level of performance.
Adidas again turned to Japanese master designer Toshiaki Omori, to find something as good, if not better.
With an all-new shape for the shoe secured, adidas then went about testing out technologies that would help runners be at their fastest and most efficient over 26.2 miles.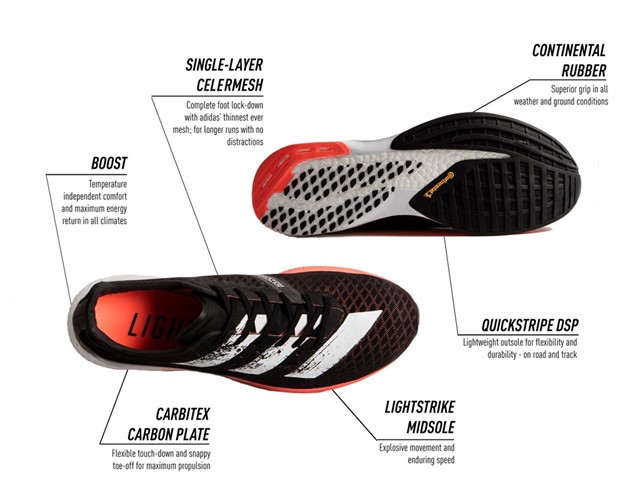 Another exercise in doing things 'right', the midsole of the adizero Pro introduces LIGHTSTRIKE for the first time on a running shoe. First debuted on the NXTLVL Basketball shoe in 2018, LIGHTSTRIKE combines energy return and stability into one of the lightest TPU foams on the market for a ride that runners will appreciate across the full distance.
Sandwiched between the LIGHSTRIKE and the sockliner is an all-new CARBITEX Carbon plate. Having been a feature of adidas shoes since the 1980's, the newly-commissioned CARBITEX plate delivers flexibility at touchdown and a snappy toe-off for maximum propulsion and an economically guided stride.
Finishing off the new features is CELERMESH: adidas' thinnest mesh ever, which completely locks down the foot for a fast feeling with no distractions by engineering an internal support structure within the mesh itself for lightweight lockdown. To complete the package, the iconic BOOST cushioning takes its spot in the heel to give a plush element of comfort that retains all its qualities independent of temperature, and best-in-class Continential rubber on the outsole for outstanding grip.
The adizero continues breaking records, most recently Rhonex Kipruto's blistering 10km World Record in Valencia in January 2020. The adizero Pro will be available to everyone from May 15, 2020.
---
More from the blog