Learning from the frenetic, fantastic growth of eSports … Fernando Piquer, CEO of Movistar Riders joins me in Munich
November 19, 2019
Fernando Piquer joins me in Munich to make sense of the frenetic, fantastic growth of eSports around the world – from its incredible fan-based communities to its sponsorship-driven business model – and what other industries can learn from it.
For more than 20 years, Fernando Piquer's professional career has been linked to digital entertainment. Before the creation of the eSports club Movistar Riders, he founded Bitoon Games, the first Spanish "free to play" game company. He was previously a founding partner of Zinkia, where he participated in the creation and exploitation of the animated series "Pocoyo" and was director of the videogames area of this company for more than five years.
Throughout his career he has worked designing digital strategies and products for brands such as Coca-Cola, BBVA, Vodafone or Endesa, among others. In Munich, Piquer joins me to explore the changing e-sports value proposition, the sales channels, the sort of engagement with the audience and the revenue system, among other elements of this new and fast-growing market.
The eSports world
Kyle "Bugha" Giersdorf is only 16 years old. His mum would prefer he focused on his school work, rather than playing computer games. But on 28 July this year, Kyle emerged from the Arthur Ashe stadium in New York with $3million in his jeans pocket, winner of the inaugural Fortnite World Cup.
A new report by Goldman Sachs documents the incredible growth of eSports, and what is likely to happen next.
The immense popularity of survival-based games like Fortnite, growing prize pools for eSports tournaments, the rise of live-streaming, and improving infrastructure for pro leagues have all paved the way for eSports to reach audiences similar to NFL or Premier League soccer.
There are 2.2bn people globally who play video games. That is about the same number of sports fans in the world.
In 2019, competitive gaming, or eSports, will have 454 million participants and revenues of $1.1bn, 26% growth. By 2022 the report estimates those figures will be 645 million participants with revenues as high as $3.2bn.
Total esports revenues are likely to reach $1.1bn in 2019 with 454 million active participants, and is forecast to more than triple by 2022, reaching $3.2bn by 2022, with 645 million participants, and with the largest portion coming from sponsorships ($277 million), followed by media rights and streaming advertisements.
This is not just a few geeky kids playing in their bedrooms. This is a generation that is redefining what is sport and what is entertainment.
eSports and competitive gaming have become a way of life for hundreds of millions of young people. It will continue to grow, the only question is by how much and how quickly. The answer lies in the willingness of games publishers, rights holders, brands and eSports companies like Gfinity to think and act differently, and be prepared to adapt their business models in new ways.
A Newzoo report highlights two trends that we have seen emerging that present interesting opportunities for brands wanting to enter this space.
First, the growing importance of giving fans a 'reason to care' and be vested in the teams. Teams and eSports professionals increasingly understand this. To date, most teams have tended to lack a brand personality – there is little depth to the relationship between fan and the 'stars'. For example, the winner of last year's Overwatch League was London Spitfire, the London team in the Overwatch franchise.
And yet none of the players come from London or the UK and they rarely visit. While London Spitfire has a global fan base it is going to be important that the team builds a core and loyal UK fan community. This will undoubtedly happen. In a world where there is so much content already available, the challenge is to make the pros and the teams they represent engaging in a way that resonates and matters to gamers. Great opportunity for brands.
The other trend is a growing desire to extend beyond just watching tournament play, either live or via a channel. There is an appetite for new types of shows and competition formats, bringing more of an entertainment approach to gaming. More people on the eSports channel Twitch watch live streaming of their heroes playing popular games than watching the 'best of the best' in live tournament play.
What's next? It will be the growing involvement of professional athletes from the worlds of football, NBA and NFL, as well as entertainers from the worlds of television, film and music who love gaming, pulling their game-loving fans into the broader eSports space. This is where the opportunities for new ideas and content are endless – and where the white space exists for brands to play.
Imagine you like playing the Fifa video game and you get the chance to watch one of your favourite Premier League stars like Dele Alli play the same game against his team mates or star players from rival clubs anywhere in the world. Or for that matter a music or entertainment star. The picking of the teams, the banter, the forfeits, innovative gameplay formats and so on. The gameplay is peripheral. The level of engagement, unbeatable. This is where brands can play and add value.
Gaming will continue to redefine how recreation time is spent. New thinking, partnerships and a pioneering mentality are going to take eSports entertainment to greater levels. The wave of innovative formats driven by sports rights holders is already shining a spotlight on what is possible – the inaugural ePremier League and the third season of F1's eSports series in June are two examples. But this is only scratching the surface. To raise the bar further there needs to be fresh sets of conversations about how to create exclusive entertainment-based content rights that complement professional events while adding millions of new fans to the games. New ideas, new formats, new heroes.
Some brands want to dip their toes, try a small-scale event and evaluate it through a traditional 'media buy' lens. Others believe in what is happening and are investing ahead of the curve for the long term.
The winners and losers in this industry will be those who have their fingers on the pulse of the consumer and those that don't. And while in marketing that is nothing new, the challenge is not to approach this industry by looking back at what has happened in the past, or through the rearview mirror. Foresight is needed. In the gaming world the rules are still being written and models created.
This infographic captures the big trends:
What is Esports?
Esports (also known as electronic sports, e-sports, or eSports) is a form of competition using video games. Another definition describes eSports as:
Competitive gaming at a professional level and in an organized format (a tournament or league) with a specific goal (i.e., winning a champion title or prize money).
Esports experts considered 2018 a landmark year that cemented the industry's potential as the next billion-dollar industry. Powered by the millennial generation the global eSports industry will only continuing to gain more traction. The number of eSports enthusiasts worldwide is estimated to be ~168 million in 2018, and for total global viewers the forecast for 2019 is ~453 million. The International Olympic Committee has even explored incorporating eSports into future Olympic events. Online streaming media platforms such as Twitch, YouTube, DouYu, and Huya have become central to the growth and promotion of esports competitions.
eSports are commonly PC based; however mobile based eSports is becoming popular in Asia. According to Wikipedia:
The most common video game genres associated with esports are multiplayer online battle arena (MOBA), first-person shooter (FPS), fighting, digital collectible card games, battle royale games and real-time strategy (RTS).
Gamified Growth
In 2018 the eSports global revenue forecast was ~$865 million (another report has this at $905m as the actual result), and is forecast to pass US$1b in revenue in 2019. By 2022 the global eSports market revenue is forecast to reach US$1.79 billion. This represents a CAGR of 22.3%. Another report has the CAGR from 2016-2021 at 27.4%. North America generates ~38% of the revenue, with China another main player with ~18% of revenues.
eSports global revenue is forecast to grow at a CAGR of 22.3%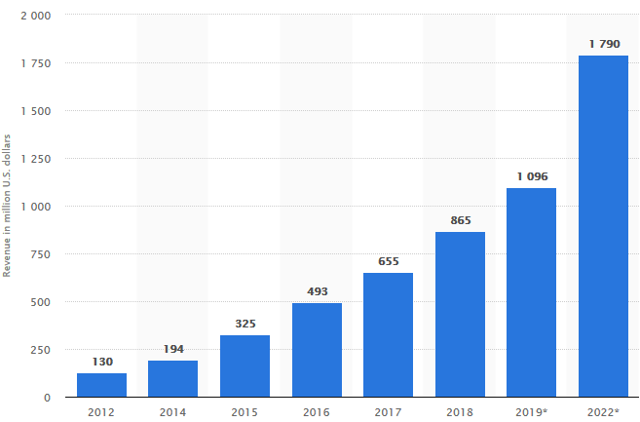 eSports competitions
In recent years eSport competitions have become very popular. Some examples are League of Legends, Dota 2, Player Unknown's Battlegrounds (PUBG), StarCraft, WarCraft, Hearthstone, Overwatch, and Fortnite. King of Glory (Arena of Valor outside of China) is another. Players compete online for huge price pools.
Top 5 eSports games (by eSport hours) watched on Twitch in 2017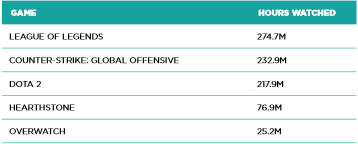 Note: Twitch.tv is the leading US live streaming video platform and a subsidiary of Amazon (AMZN).
As shown below League of Legends was by far the most popular eSports title in 2017; however others such as PlayerUnknown's Battlegrounds (PUBG) and DOTA 2 are also doing very well more recently. A common theme with the most popular eSports is battles.
Top ten games as of 2017
The eSports ecosystem
At its core the eSports ecosystem involves the game makers (often also the publishers). They typically make and publish the games. Often they then do the event organization and sell media streaming rights. In other cases they license their games out to external league organizers and streaming platforms. The streaming platforms then make money mostly from advertising. Meanwhile the teams make money from sponsorships.
A simplified view of the eSports ecosystem

How eSports companies make money
Most eSports companies make money via some form of advertising to their audience. eSports companies will typically do some or all of the following to create revenue:
Sponsorship – Teams attract large sponsorships. Players are usually professional. For example the New York Yankees, Houston Rockets, Robert Kraft, and Magic Johnson have bought teams and/or sponsorships.
Advertising sales. Done by the teams, the event organizers and the streaming companies.
Media rights – The event organizers sell TV or streaming broadcast rights to streaming companies such as Twitch, DouYu, Huya, and YouTube Gaming.
Game publisher fees – The game makers make money from selling publishing fees or rights to use their games to event organizers etc.
Merchandise and Ticket sales.
2018 global eSports revenue by segment with 2018 growth rates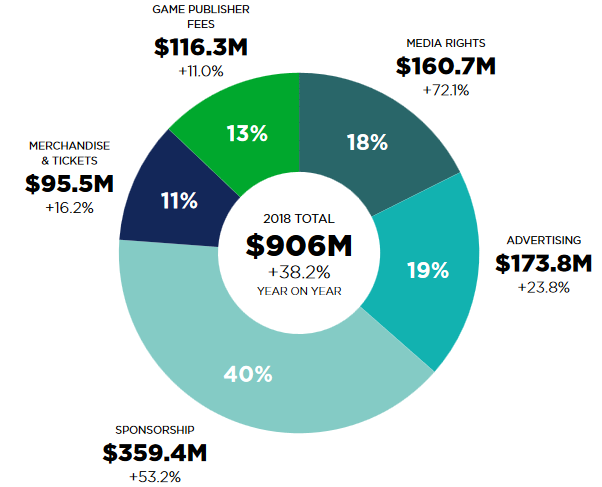 Note: Of the above media rights (streaming) and sponsorship fees are forecast to grow the fastest.
For now eSports is dominated by battle style games; however it is not hard to imagine a popular eSports car racing event that would feature teams from say Volkswagen, Audi, Porsche and so on being sponsored by the car companies. The same can then be said across most industries (sports teams, corporations etc), hence the revenue growth potential is very large.
An example of an eSports competitor and stadium event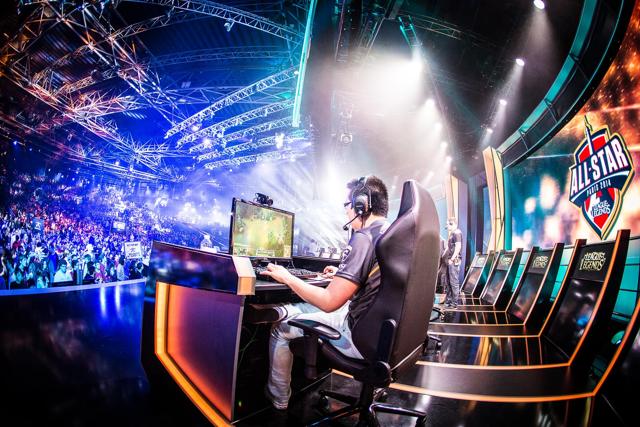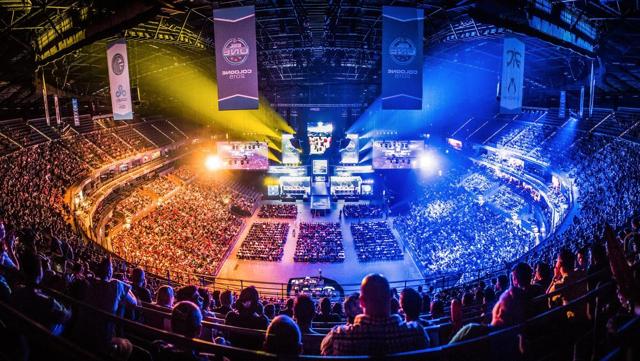 eSports audience
As shown below, eSports audience is also growing rapidly and is forecast to reach 600m by 2020. The chart below has a more conservative a forecast, but shows the rising trend. More audience equates to greater advertising potential.
ESports audience growth and growth forecast to 2021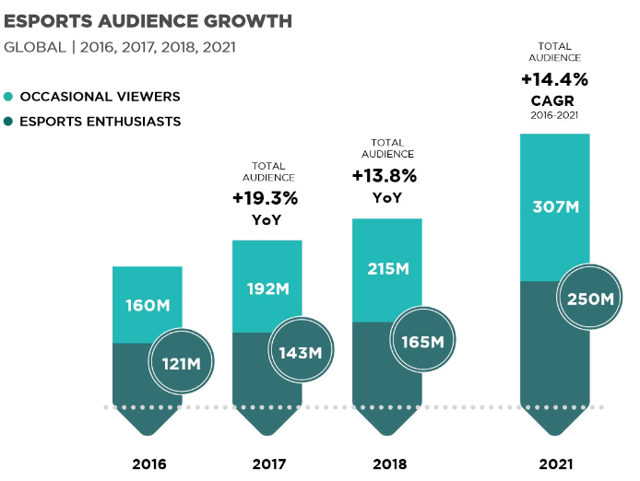 2018 eSports data

An introductory look at the main companies in the eSports industry
The game makers/publishers
Activision Blizzard (ATVI)
Activision Blizzard own the popular Overwatch League as well as World of Warcraft, StarCraft, Diablo, and Hearthstone. Activision Blizzard currently includes five business units: Activision Publishing, Blizzard Entertainment, King, Major League Gaming, and Activision Blizzard Studios. In 2018 Activision Blizzard signed a multiyear deal with Walt Disney to broadcast the Overwatch League. As of March 2018, it is the largest game company in the Americas and Europe in terms of revenue and market capitalization.
Electronic Arts (EA)
Electronic Arts is an American video game company headquartered in California. It is the second-largest gaming company in the Americas and Europe by revenue and market capitalization after Activision Blizzard and ahead of Take-Two Interactive and Ubisoft as of March 2018
Take-Two Interactive Software, Inc. (TTWO)
Take-Two Interactive is an American video game holding company based in New York City. The company owns two major publishing labels, Rockstar Games, and 2K, itself composed of two divisions: 2K Games and 2K Sports, all of which own and operate various game development studios.
Tencent (OTCPK:TCEHY)
Tencent acquired Riot Games and now owns the very popular League of Legends game. Tencent also own King of Glory. Tencent is also the leader in eSports game streaming as you can read below.
Others game making/publishing companies include:
The streaming companies
The streaming companies make good money mostly from advertising. China is the world's largest game streaming market, with approximately 4.9 times the monthly active users of the U.S. market in 2018.
Amazon (AMZN)
The online streaming market in the USA is led by Amazon's Twitch. Still only a small percentage of Amazon's massive revenue, but a dominant palyer in the eSports streaming market.
Tencent (eGame, and Tencent backed DouYu)
Tencent dominates the eSports streaming industry in China. Tencent has their own eGame, and are about to IPO DouYu in the USA.
DouYu (DOYU) primarily focuses on the live-streaming of games. DouYu was the largest game-streaming platform by average total MAUs on both mobile and PC. DouYu had 159.2 MAUs in the Q1 2019, representing YoY growth of 25.7%. DouYu's revenues come from live-streaming through the sale of virtual gifts, accounting for 86.1% of its revenues, with the rest coming from advertising. DouYu is still loss-making and reported a net loss of $127.4 million in 2018, up from $91.33 million in 2017. Revenues jumped 93% to $531.5 million last year. You can read more here.
Huya (HUYA) – spin off from YY Inc.
Huya is known as the "Twitch of China". Huya mostly works off a gift model. Streamers can receive virtual gifts from their audiences, purchased from Huya. The company then shares a portion of revenue from these gifts with broadcasters and associated talent agencies. The sale of these gifts accounted for roughly 95% of the company's sales last year, with the remainder coming from advertising.
Alphabet Google (GOOG) (GOOGL)
Alphabet Google's YouTube Gaming make money via subscription and advertising.
Note: Facebook (FB), Twitter (TWTR), Microsoft (MSFT) Mixer are also into eSports streaming. Alibaba and Baidu are also moving further into streaming and gaming. Smashcast.tv is another well known name in the eSports streaming industry.
The team owners
Team owners are often made up of gaming communities, celebrities or other groups, and are usually not listed companies. For example, aXiomatic (private) owns the number one team "Team Liquid" that has earned over US$24 million in prize money. The number two company Evil Geniuses is a subsidiary of GoodGame Agency, owned by Amazon's Twitch division.
You can read here about the Top 10 eSports teams, earnings, and salaries.
Some smaller listed eSports and gaming companies
Further reading
Risks
eSports may not continue to grow, as the industry is still in the early stages. Seems very unlikely.
Competition can be fierce, and costs can run high. The failure of China's leading streaming company Panda TV highlights this.
Many companies are private or owned by very large conglomerates such as Tencent.
Technology change or disruption can occur. For example apps can be a potential threat.
Government legislation changes or bans as we saw in China recently with some games.
Conclusions
eSports is still at a relatively early stage of growth and is small in comparison to the overall gaming sector. For example, in 2017 eSports revenue was US$696m compared to gaming at US$4,547m, making gaming 6.5x more revenue than eSports. The point is that eSports still has enormous growth potential ahead, and every chance to follow it's gaming older brother.
As eSports evolves it appears to me most likely that the advertising and streaming platforms (Amazon Twitch, Tencent's DouYu, Huya, and Alphabet Google YouTube Gaming) will make the most money, as occurred in social media. The most popular game makers such as Activision Blizzard, Electronic Arts, Take-Two Interactive Software, and Tencent should also do well; however competition is fierce. Sponsorship revenues will tend to be via private businesses/teams and harder for most investors to participate in. Those companies that have arenas and multiple teams in multiple leagues should also do well.
The e-Sports club Movistar Riders makes part of a whole experimental program called Readmagine devoted to the work with new sectors in partnership with the publishing organizations.
---
More from the blog